Your search for products in Football Licensed Products priced by the case between $10.00 and $20.00 yielded 44 results. You are on page 1 of 5.
Revise
or
New
Search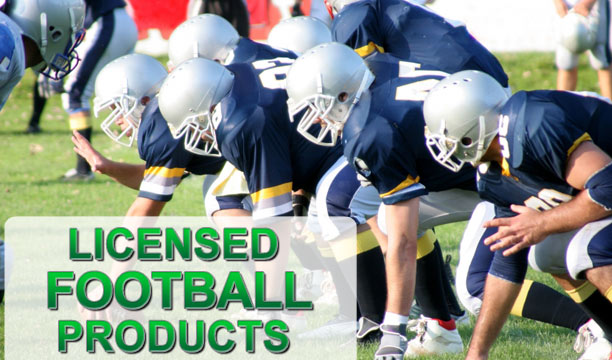 Compare

Officially licensed product. Made in the USA. 12.5 square feet of Atlanta Falcons gift wrapping paper.
Compare

Chicago Bears 6 Pack Washcloth Set. Now you can celebrate your favorite team in every room of the house. A set of wash cloths 12 in x 12 in 100% cotton.
Compare

Official NFL gift wrap. Made in USA, 12.5 square feet of gift wrapping paper per roll.
Compare

St. Louis Rams Foil Hammer Balloons. Includes (8) - foil hammer balloons.

Weight (lbs): 0.09
Dimensions: 7 x 7 x 1
Color: NA
Size: NA
Material: foil
Care Instructions: NA
Occasion: Birthday
Compare

San Diego Chargers Foil Hammer Balloons. Includes (8) foil hammer balloons.

Weight (lbs): 0.12
Dimensions: 7 x 7 x 1
Color: NA
Size: NA
Material: foil
Care Instructions: NA
Occasion: Birthday
Compare

Pittsburgh Steelers Foil Hammer Balloons. Includes (8) - foil hammer balloons.

Weight (lbs): 0.11
Dimensions: 7 x 7 x 1
Color: NA
Size: NA
Material: foil
Care Instructions: NA
Occasion: Birthday
Compare

Indianapolis Colts Foil Hammer Balloons. Includes (8) - foil hammer balloons.

Weight (lbs): 0.02
Dimensions: 7 x 7 x 1
Color: NA
Size: NA
Material: foil
Care Instructions: NA
Occasion: Birthday
Compare

Houston Texans Foil Hammer Balloons. Includes (8) - foil hammer balloons.

Weight (lbs): 0.11
Dimensions: 7 x 7 x 1
Color: NA
Size: NA
Material: foil
Care Instructions: NA
Occasion: Birthday
Compare

Detroit Lions Foil Hammer Balloons . Includes (8) - foil hammer balloons.

Weight (lbs): 0.09
Dimensions: 7 x 7 x 1
Color: NA
Size: NA
Material: foil
Care Instructions: NA
Occasion: Birthday
Compare

Chicago Bears Foil Hammer Balloons . Includes (8) - foil hammer balloons.

Weight (lbs): 0.1
Dimensions: 7 x 7 x 1
Color: NA
Size: NA
Material: foil
Care Instructions: NA
Occasion: Birthday