Your search for products in Home Textiles yielded 22 results. You are on page 1 of 3.
Revise
or
New
Search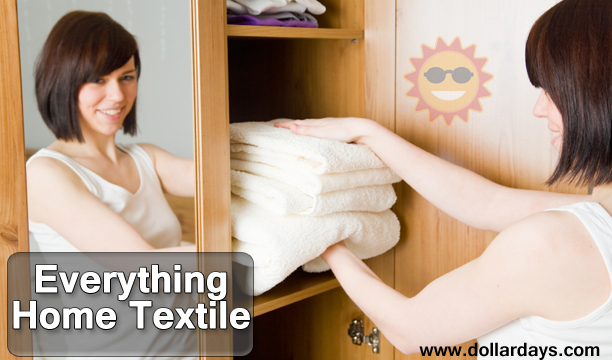 Shop from 100's of items in each Category

Compare

Heavy Wash Cloth
Wholesale 12" x 12" Terry Solid Wash Cloth
6-8 assorted colors per bulk case of wash cloths (colors may vary per case).
288 pieces per wholesale discount cheap bulk case of washcloths.
Compare

240 Piece Paper Doily Display

5 different sizes and shapes

5.5" Round - 25 pack
6.5" Round - 25 pack
8.5" Round - 20 pack
10.5" Round - 10 pack
10" x 14" Rectangle - 6 pack

All are white with a lace design

Ships in a free standing cardboard floor display.
Compare

10" plastic dollies. Can be used as a place mat or a doily. Bulk-packed 400 doilies per case.
Compare

Nylon Elastic Carry Strap with web handle.
Easily removable.
Strap only, blanket not included.
Perfect packaging option to purchase along with your blanket.
Compare

24 Dozen Assorted Dyed Washcloths
Assorted Colors And Sizes
Size Range: 12 Inches x 12 Inches Up To 13 Inches x 13 Inches.
Compare

Black Nylon Carry Strap for Fleece Blankets. Style: STRAP Nylon Web handle, adjustable: double buckle; side release.
Compare

Reusable cleaning cloths great for household cleaning needs. 5 Sheets that can wipe, polish, clean, dust, and scrub almost any surface. White with color waves in blue and pink. They measure 16" x 20". The set comes in a poly bag with header card and UPC code.
Compare

Spiderman placemat, new design..
Compare

16 x 27
3.00 lbs/dz towels
86/14% Cotton/Poly towels
Salon and Gym Towel white hand towels
White 16s
Compare

Every day placemats that come in assorted designs and colors. Mats are also 2 sided.