Your search for products in Clothing - Childrens yielded 5057 results. You are on page 1 of 506.
Revise
or
New
Search
Wholesale Childrens Clothing - Buy Childrens Clothing - Discount Childrens Clothing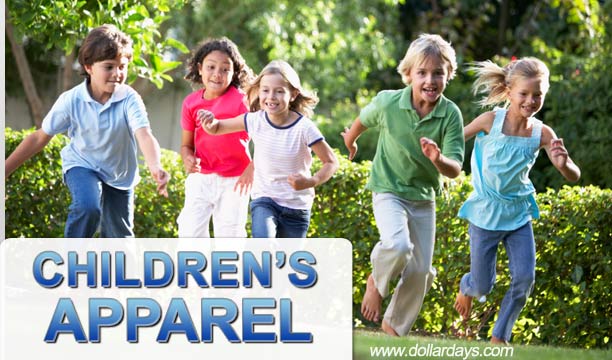 Find wholesale children's clothing at a fraction of the cost. If you're looking to buy
baby clothing
at huge discounts, Dollar Days is the answer for wholesale childrens clothing. Start saving today on wholesale childrens clothes! Buying wholesale children's clothing can help you save money when stocking your storefront or buying for the kid in your family. Find kids below wholesale children's clothing at discount prices at Dollar Days. Wholesale apparel childrens clothes and discount clothing for children and kids of all ages! Buy by the case or in bulk, all wholesale childrens clothes at low closeout prices.
Compare

Boy's briefs assorted cartoon print, 3 pieces in a pack.
Elastic waistband for long lasting comfort.
Super seams for added durability.
100% soft cotton for maximum absorbency and breathability.
Full cut leg openings for proper fit.
Sizes/waist inches: S/20-21, M/22-23, L/24-25, XL/26-27
Case Ratios: S-1dz, M-2dz, L-2dz, XL-1dz.
Priced per pair, with 72 pairs, (24-3packs) per wholesale cheap discount bulk boys childrens brief underwear case.These boys underwear are part of our cheap kids clothes collection
Compare

Maria Rosa-brand girl's panties is made of 100% cotton for maximum wearing comfort. There are 6 cute assorted colors of this underwear in a gift box package of girls underwear.
Size ratio per box: 1 dozen small, 2 dozens medium, 2 dozens large, 1 dozen X-large. These girls panties are part of our cheap kids clothes collection.
Compare

Maria Rosa baby socks.
White color only.(The stripes are sold out)
Package: 3 pairs of infant and baby white socks in a poly bag. Price is per pair of these infant and baby apparel white socks.
Case size ratio: 5 dozens 0-12 months, 5 dozens 12-24 months. 55% Acrylic, 30% Cotton, 15% Spandex.These baby socks are part of our cheap kids clothes collection.
Compare

Girl's Hooded Winter Jacket
Shell: 100% Cotton
Lining: 100% Polyester
Padding: 80% Polyester
20% Down
Assorted Sizes: 6-12
Assorted Colors: Black, Purple, Khaki, Pink, Burgundy, Green.
Compare

Boys Winter Jacket w/ Hood
Shell: 100% Polyester
Padding: 100% Polyester
Interior: 100% Polyester
Assorted Sizes: 4-7
Assorted Colors of these kids outerwear clothes jackets: Gray, Blue, Black, Dark Blue.
Compare

Infant Scratch Mittenssoft White Mittens With Assorted Color Stitching. These innovative baby mittens from Baby King stop infants from scratching themselves and helps prevent infants from sucking their thumbs.
Compare

Girls Briefs, 5 pair per package, assorted solid colors and patterns and assorted sizes with these girls underwear. (price is for each package)
Compare

Great Boy's Winter Jacket with adjustable hood. Lightweight/Soft to touch. Keep extra warm and great for rain. Two Tone Colors.
Shell: 100% Polyester. Lining: 100% Polyester. Interlining: 100% Polyester.
These kids coats are Made In China
Colors: Blue, Grey, Ash Grey, Green, Black, Khaki
Sizes: 6, 8, 10, 12, 14, 16. (6 of each size).
Compare

Kids winter jackets. These children jackets are %100 polyester with nylon filling. Jackets feature a butterfly embroidered on the left chest and front pockets. The boxes come pre-packaged with 6 colors including burgundy, pink, khaki, red, hunter green, baby blue, hot pink and gray. Not all colors will be in each case. Even numbered sizes 4-14, 6 of each size per case of boys and girls clothes.
Compare

Hanes 9 Pack Boys Medium White Briefs. Go beyond basic with improved-fitting Hanes briefs. A great boys briefs value! Fits boys weighing 38 to 58 lbs. Waist: 23 to 26 inches. Gray full-elastic waistband fits gently. Super soft 100% cotton. Fly front. No Ride Up Leg bands offer all-day comfort. Double-stitched for lasting wear. 9 Pack. Washable. Case pack: 4 - 9 packs.

Apparel and Clothing, childrens - At Dollar Days we work hard to be your one-stop below wholesale children's kid clothing distributors for baby, infants, toddlers, boys and girls wholesale clothing. We have the quality and selection of children's wholesale clothing and kids clothes you require. Be sure to check out our bulk pricing and Closeout Corner areas for other " cheap " bulk and dollar store kids clothing apparel supplies Deals! Dollar Days - your one-stop supplier for discount wholesale buy in bulk childrens clothing deals and kids clothes wholesale suppliers. Cheap prices, never cheap childrens clothes products! Discount and wholesale fashion childrens clothing and kid apparel at bulk clothes prices for kids clothing and wholesale apparel stores as well as wholesale children's clothing and apparel distributor and supplier. Discount wholesale kids clothing distributors and suppliers find Dollar Days kids clothes and kid apparel in bulk are perfect for whole sale clothing and apparel stores.