Your search for products in Paper Products yielded 1930 results. You are on page 1 of 193.
Revise
or
New
Search
Wholesale Paper - Wholesale Notebooks - School Notebooks and Folders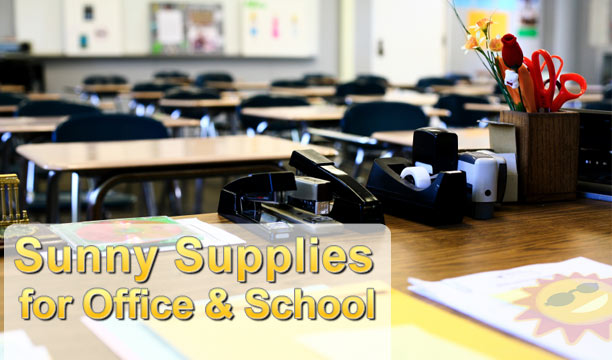 Dollar Days offers a wide selection of wholesale paper, notebooks, wholesale paper products, spiral notebooks on sale and much more and is the place to buy wholesale notebook paper. Buy school notebooks and folders at bulk pricing. Shop Dollar Days wholesale paper products today! Wholesale office paper supplies and back to school notebook supplies -
educational supplies
,
teaching supplies
,
notebooks
, filler paper, composition books, spiral notebooks, ruled notebooks, college ruled notebooks, envelopes, pencils, scissors, filing supply items, paper products and so much more school supply products - buy the case or buying in bulk, all at low cheap closeout prices.
Compare

Sponge Bob 5.5" X 5.5" Spiral Raised Cover 50 Sheet Notebook In Display
Compare

Dora 4Pk Mini Spiral Memo Pads In Pb
Compare

Sponge Bob 4Pk Mini Spiral Memo Pads In Poly Bag
Compare

These assorted mini spiral notebooks have company logos and addresses already printed on the front side. Each wholesale bulk discount cheap spiral notebook includes 50 pages of double sided, lined paper. Sprial note books are approximately 5 inches long and 2.5 inches wide.

These office and school supplies spiral notebooks can not be imprinted on, these spiral notebooks are already imprinted with other companies' names.
Compare

Assorted Colored Covers - Marble Composition Note Book. 100 sheets of paper. 9.75" x 7.5". Wide ruled paper. 92 bright heavy weight paper and sewn binding on these composition books. Printed inside sheets of paper: class schedule, multiplication tables, metric conversion info - measure, weight, volume.
Compare

100 page assorted color marble composition book
Colors: red, green, yellow & blue.
56 GSM, 86 brightness.
9 3/4" x 7 1/2"
100 pages. Wide Ruled.
Compare

Memo Pads - 3" x 5" - 60 sheets each - Flip cover - assorted colors and printed designs - shipped in a shelf display - very good quality.
Compare

Memo Top Wire Note Books. 3" x 5". 50 sheets per book. 4 books per pack. Narrow Ruled. White lined paper. Very good quality.
Compare

Sticky Notes - Self Repositionable Notes - Assorted Color & Designs.
50 Sheets/pad
Dimensions: 3" X 3".
Case pack of 96, includes 6 Different Designs, 16 pad of each design.
Compare

Index Cards Ruled Paper
100 pack
3" x 5"
Quality index card paper stock used in these index cards

Save big with Dollar Days wholesale office paper and school notebook supplies distributors. educational supplies, teaching paper supplies, notebooks on sale, cheap paper tablets, filler paper, wholesale composition books, spiral notebooks, wholesale paper ruled notebooks, spiral notepads, college ruled notebooks, envelopes, pencils, scissors, filing supply items, paper products and so much more of the needed wholesale school supply sale products, we have all the paper at great closeout bulk buying pricing and Dollar Days is the place to buy wholesale notebook paper. Be sure to check out our bulk pricing and Closeout Corner organic and natural school paper sale products items for other great wholesaler deals on bulk paper tablets bargains. Dollar Days - your one-stop wholesale distributor for dollar store paper tablets, churches notebook paper, schools paper folders, non profit organizations, charities and discount wholesale office supply store products, supplier for discount wholesale buy in bulk school gift stores, office supply stores, convenience store products deals. Cheap spiral notebooks prices on sale, never cheap paper products! Discount and wholesale home school store and college book store products at bulk product prices for convenience, drug stores and college book stores as well as wholesale bulk office supplies distributor items and supplier. Discount wholesale distributors and suppliers, as well as charity, church, school and non profit organizations find Dollar Days school supplies products in bulk are perfect for whole sale office supply stores.