Your search for products in State and Regional Souvenirs yielded 2098 results. You are on page 1 of 210.
Revise
or
New
Search
Wholesale State Souvenirs - Discount Regional Souvenirs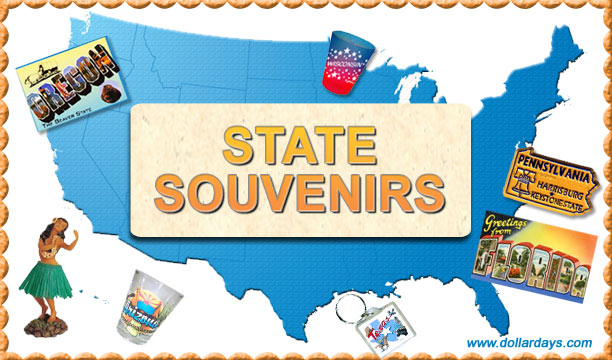 Shop From Thousands of State Souvenirs

Looking for wholesale state souvenirs? We offer a variety of discount state souvenirs at closeout prices. Start saving on local souvenirs today at Dollar Days. Everyone loves wholesale souvenirs and souvenir supplies - wholesale mugs, closeout postcards, bulk pins, discount keychains, magnets, glasses and so many more products - buy the case or buying in bulk, all at low cheap closeout prices.
Compare

Arkansas Shotglass- Peace/Love/Happiness. Green peace sign, red heart, yellow smiley face graphic. Dimensions: 2.25" x 2" x 2".
Compare

North Carolina Keychain Lucite Elements
Compare

Louisiana Backscratcher 15" H X 2" W Sparkle 24Bx
Compare

Texas Magnet 2D Banner Golden
Compare

Michigan Keychain- Glitter Peace Symbol. Assorted colors. Dimensions: 5.5" x 1.5" x 0.1".
Compare

Boston Strong
T Shirt
Cotton
First Quality
Domestic Made
Compare

New York Manhattan License Plate
Yellow & Blue
Metal
Compare

NY New York License Plate
Yellow & Blue
Metal
Compare

Wall Street New York Licensplate
Blue & Yellow
Metal
Compare

Time Square New York License Plate
Yellow & Blue
Metal

Dollar Days - your one-stop below wholesale distributor for gift shops, souvenir stores, dollar store, corporation gifts, churches, schools, non profit organizations, charities and discount wholesale gift store products, supplier for discount below wholesale buy in bulk gift stores, drug stores, convenience store products deals. Cheap prices, never cheap products! Closeout and wholesale discount store products at bulk product prices for convenience and drug stores as well as wholesale bulk gift distributor items and souvenirs supplier. Discount wholesale distributors and suppliers, as well as company, charity, church, school and non profit organizations find Dollar Days gift souvenir supply products in bulk are perfect for whole sale gift supply and souvenir stores.