Your search for products in State and Regional Souvenirs yielded 2095 results. You are on page 1 of 210.
Revise
or
New
Search
Wholesale State Souvenirs - Discount Regional Souvenirs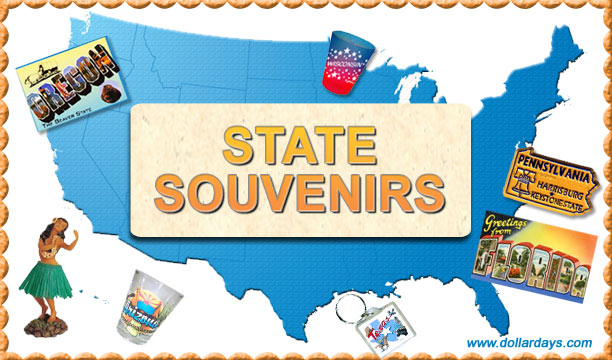 Shop From Thousands of State Souvenirs

Looking for wholesale state souvenirs? We offer a variety of discount state souvenirs at closeout prices. Start saving on local souvenirs today at Dollar Days. Everyone loves wholesale souvenirs and souvenir supplies - wholesale mugs, closeout postcards, bulk pins, discount keychains, magnets, glasses and so many more products - buy the case or buying in bulk, all at low cheap closeout prices.
Compare

Tennessee Playing Cards- State Map. The Volunteer State. Plastic box. Dimensions: 4.5" x 2.25" x 0.75".
Compare

New Mexico Ceramic Shooter- Wordmark. New Mexico, Santa Fe, Land of Enchantment, Route 66.Shooter Ceramic Wordmark
Compare

Georgia Travel Mug- Stainless Steel/Acrylic. Cruiser grapic. Polka dots and colorful state icons. Dimensions: 6" x 4" x 4".
Compare

Arkansas Postcard Ar225 Villa Marre
Compare

Pennsylvania Magnet 2D 50 State Orange
Compare

Texas Playing Cards Elements 24 Display unit
Compare

Idaho Shot Glass 2.25H X 2" W Elements
Compare

Idaho Lapel Pin 1" H X 1/2"W Elements
Compare

Georgia Tooth Pick Holder 2" H X 1.5" W (Toothpicks Not Included) State Map
Compare

Georgia Magnet 3D Map. Magnet measures 5.5"x3.5"x0.25".

Dollar Days - your one-stop below wholesale distributor for gift shops, souvenir stores, dollar store, corporation gifts, churches, schools, non profit organizations, charities and discount wholesale gift store products, supplier for discount below wholesale buy in bulk gift stores, drug stores, convenience store products deals. Cheap prices, never cheap products! Closeout and wholesale discount store products at bulk product prices for convenience and drug stores as well as wholesale bulk gift distributor items and souvenirs supplier. Discount wholesale distributors and suppliers, as well as company, charity, church, school and non profit organizations find Dollar Days gift souvenir supply products in bulk are perfect for whole sale gift supply and souvenir stores.