With our Super Affiliate/Distributor Program, you get a unique sub-domain on our site, with all the same products and content as DollarDays.com. We provide you the added benefit of customer retention and long term sales while offering a commission rate of up to 15%!
Many of us have dreamed about owning our own business but the costs are just too much. DollarDays has created a super distributor affiliate program where there is no investment in inventory. It gives you the chance to sell over 225,000 different products by the case at truckload prices to the businesses and organizations in your town or to your neighbors. It is a very simple program.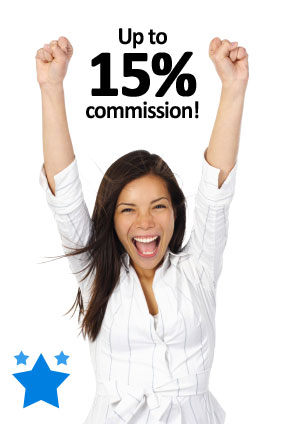 How It Works: DollarDays International, INC (DDI) will set up a personalized website with your name, company or logo at the top of every page. DDI will be responsible for adding new products to your site and removing discontinued items as well as the overall maintenance of the site. Marketing your site to the businesses in your town and your neighbors will be the key to your success. Your volume and income will come with satisfied customers who look to you for reorders to keep their shelves full of hot selling merchandise.
How Much Does It Cost? Only $99 for setup plus an annual renewal fee starting at one year. The annual fee is equal to the price featured at the time of renewal. All DollarDays order policies apply.
A monthly recurring fee of $15.95 will be charged for the following services:
Full Service Sales Force
Complete customer service
All customer order tracking and email notification
Order processing and shipping
Payment Processing (Mastercard, Visa, American Express, PayPal)
Responsibility for collections on unpaid or delinquent orders
Website hosting and daily maintenance of product database
We handle it all, so you can spend your time promoting your website! Go ahead and compare programs. We guarantee you won't find others that offer so much for so little.
What Will My Site Look Like? Your personalized logo (provided by you) in place of DollarDays' logo
Payment Details: You will be paid the following commissions of all net product sales (net sales are after returns and cancellations) that are generated through your site. Commissions are paid monthly and commission rate is based on yearly sales. (See commission table below.) Payment is issued on the 15th of each month with a minimum of $25.00. If amount due is below the minimum, payment will be issued when the required minimum has been met.
| | |
| --- | --- |
| Commission Rate | Yearly Net Sales |
| 5% | $0 - $124,999 |
| 6% | $125,000 - $499,999 |
| 7% | $500,000 - $1,199,999 |
| 8% | $1,200,000 - $1,999,999 |
| 10% | $2,000,000 - $3,999,999 |
| 15% | $4,000,000 + |
Compare our programs. Which one is right for you? Many people choose more than one program to fuel their revenue streams.
Compare Programs

| | | | |
| --- | --- | --- | --- |
| Program Features | Affiliate Network | Super Affiliate/Distributor | E-Commerce Online Store |
| Monthly Commission | ✓ | ✓ | |
| Sales Report | ✓ | ✓ | ✓ |
| Personalized Website | | ✓ | ✓ |
| Hosting | | ✓ | |
| Quick Setup | ✓ | ✓ | |
| Customizable Website | | | ✓ |
| Banner Links | ✓ | | |
| Control Panel | | | ✓ |
| DDI Customer Service | ✓ | ✓ | ✓ |
| DDI Order Processing | ✓ | ✓ | ✓ |