Your search for products in Teacher and Classroom Supplies yielded 398 results. You are on page 1 of 40.
Revise
or
New
Search
Wholesale Teacher Supplies - Wholesale Teacher Supplies Crafts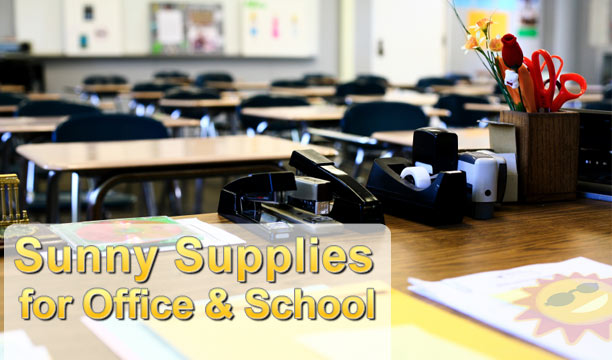 Shop for wholesale teacher supplies crafts at closeout prices. We offer a wide variety of wholesale teacher and classroom supplies crafts at discount prices. Shop now and save on wholesale teacher supplies crafts today at Dollar Days.
Compare

BAZIC 36 Ct. Multiplication & Division Mini Flash Card (2/Pack). Designed for ages 8+. Multiplication and Division flash cards. Large print and easy to read multiplication and division flash cards. Great flash cards for a teachers at school or to practice at home. Case/pack: 72/24. Each flash card measures approximately; 3.25" x 2.25".
Compare

BAZIC 36 Count Addition & Subtraction Mini Flash Math Card (2/Pack)
Designed for ages 8+.
Large print and easy to read for these addition and subtraction flash cards.
Compare

Trend Enterprises School Days Stickers, Acid-free, Nontoxic, 432 Stickers
Assortment of colorful Sparkle Stickers delivers little rewards for big successes. Includes 432 stickers on 13 sheets to reward, motivate or to add pizzazz to name tags, report cards, party invitations, and homework assignments. Ideal for kindergarten to fifth-grade (ages 5 to 11). Stickers are acid-free, nontoxic and safe to use on photos.
Compare

Pacon Corporation Sentence Strips, Sturdy Tagboard, 3"x28", 100/PK, Assorted
Peacock Super Bright Sentence Strips feature a sturdy tagboard stock. Each strip offers a 1-1/2" ruling with 3/4" dotted midline on one side and a single-line ruled on the opposite side. These recyclable strips measure 3" x 24". Assorted colors include Hot Orange, Hot Blue, Hot Lime, Hot Pink and Hot Yellow. These sentence strips are a must have teacher and classroom supplies.
Compare

Multiplication Flash Cards (36PCS/Pack)
Case Pack - 24 Packs/Case

Compare

Flash cards help children learn, memorize and retain mathematical equations and are great wholesale school classroom supplies. Math Cards include: addition math, subtraction math, division math and multiplication math. These math flash cards are packaged in small boxes which are perfect for traveling, waiting rooms and backpacks. Math card supplies are excellent for a teacher at school or learning from math flashcards at home. Math Flash cards are packaged on a blister card with hanging hole for these teacher supplies. Each wholesale bulk cheap discount math flashcard set measures 2 1/4" x 3" x 1/4".
Compare

Binney and Smith Dry-Erase Activity Center, w/ 4 Bullet Tip Markers/Eraser
Crayola Dry-Erase Activity Center is great for learning at home or on the go. Interchangeable templates help children write, draw, count or just play different games. Activity center includes four assorted bullet tip dry-erase markers, an eraser, five double-sided templates and an instruction sheet. Templates include alphabet practice, number practice, games, U.S. Map, alphabet game, grid and a blank one. Back of the box has activities, game ideas and rules. Additional templates are available.
Compare

Carson-Dellosa Publishing Problem Solving Math Game, w/ 6 Games, Grade 2
Problem-solving math games come nearly ready to play. All you need to do is cut and laminate the game pieces. Game pieces are color-coded to match four-color, game file folders so keeping them organized is easy. Provided answer keys give students the opportunity to play and learn together. Skills covered include patterning, sorting and classifying, inequalities, operations, and computation. Set includes six games, a resealable tote, preprinted game boards, answer keys and grade-level-specific skills.
Compare

Educational math flash cards come in 4 different math lessons: multiplication math flashcards, subtraction math flash cards, division math flash cards and addition math flash cards. Each math flashcards supplies set comes in an individual box with 35 double-sided math cards and instruction sheet perfect for any math teacher. Each piece of math flashcards is made of card stock for durability in these teacher supplies. Great wholesale bulk cheap discount math flash cards for school math or home math. Comes with cardboard tray for storage. Flash Cards measure 2 1/2" x 4 1/4".
Compare

Trend Enterprises Computer Skills Charts, 17"x22", Multicolor
Computer Skills Learning Charts focus on grade-appropriate subjects. Introduce one chart at a time, or display the entire combo pack for year-round reference. Sturdy and durable charts include computer basics, online safety rules, computer rules, browsing the net and computer keyboard basics. Computer basic learning chart identifies parts of a personal computer with word labels and brief descriptions and includes a glossary of computer terms. The online safety rules chart covers what a student Internet user should do and should not. The browsing the net chart defines the various parts of a typical Internet search engine or directory and includes helpful hints for using directories and search engines. The computer keyboard defines the functions of important computer keys. The back of each chart features reproducible activities, subject information, and helpful tips. Ideal for second-grade to sixth-grade (ages 7 to 13).

Buy wholesale teacher supplies at huge savings. A great selection of wholesale classroom teachers supply at discount prices. Start saving on wholesale teacher teaching classroom supply at Dollar Days. School is in session for discount teacher teaching supplies. Dollar Days offers a large selection of teacher supplies & crafts perfect for any student. Shop Dollar Days today! Quality wholesale teacher and classroom supplies at closeout and bulk buying teacher supply prices - cheap classroom supplies pricing, not cheap teaching supplies products! Wholesale Teacher and Classroom Supplies for preschool, elementary school, middle school, junior high school, high school and college from Dollar Days! Wholesale Classroom decor, cheap grade books, teacher behavior tools, discount craft projects and more teachers supply items at low closeout bulk pricing - Cheap classroom supplies prices, not cheap teacher teaching merchandise! Source for wholesale and closeout school, teacher and office supplies. Get everything from wholesale notebooks and cheap copy paper to discount calculators for preschool, elementary school, junior high school, middle school, high school and college. All at closeout bulk buying teachers supply wholesale pricing. Be sure to check out our bulk pricing and Closeout office and school supply products for other great wholesaler deals on bulk teacher teaching bargains. Dollar Days - your one-stop wholesale distributor for dollar store teaching supplies, churches, schools teacher supplies, non profit organizations, charities and discount wholesale office store products, supplier for discount wholesale buy in bulk school supplies stores, school gift stores, teacher teaching stores, convenience store products deals. Cheap prices, never cheap teacher teaching products! Discount and wholesale office supply store products at bulk product prices for wholesale bulk office distributor items and supplies.