Adding donation to cart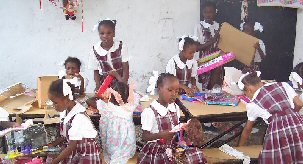 Welcome to the Serving Hearts Abroad Wish List.

Our non-profit organization is dedicated to aiding those less fortunate. Established in 2005, after participating with community outreach activities through The Episcopal Church, in Broward County, Florida, Serving Hearts Abroad was formed to aide children abroad and we've aided the less fortunate here and abroad.

S.H.A's mission is to enhance and encourage the well-being of children by promoting education and positively impacting their surroundings. This organizations heart is in it to aid those who are less fortunate. We are dedicated to creating tools and services to help these less fortunate kids.

Imagine that your parents never picked you up when you cried, never kissed you gently while they cradled you in their arms, never sang playful songs to make you laugh and were never by your bedside to comfort you when you were sick. Imagine what it would be like to grow up without any parents at all. For our children abroad that is what they face. Children suffer here and abroad. So many more like them, no imagination is needed, this is their reality. You could be the one to give them the love and attention that they so desperately want and need just by providing them with basic encominical needs. A Child Waits for our help and support here or abroad. Abroad its an orphanage which is located in Leogane, Haiti, callled Notre Dame de la Charite run by women with the same desire in their hearts to help children in distress.

We need your help, please donate as much as you can of the following items of need to support children in need:
Your charitable donation will be shipped directly to Serving Hear
Shipping on all orders under $100 is $6.95, orders over $100 will be 9.95 and all orders over $399 will receive free shipping!